View Past Services
FBCWest 325 | The Temptation of Jesus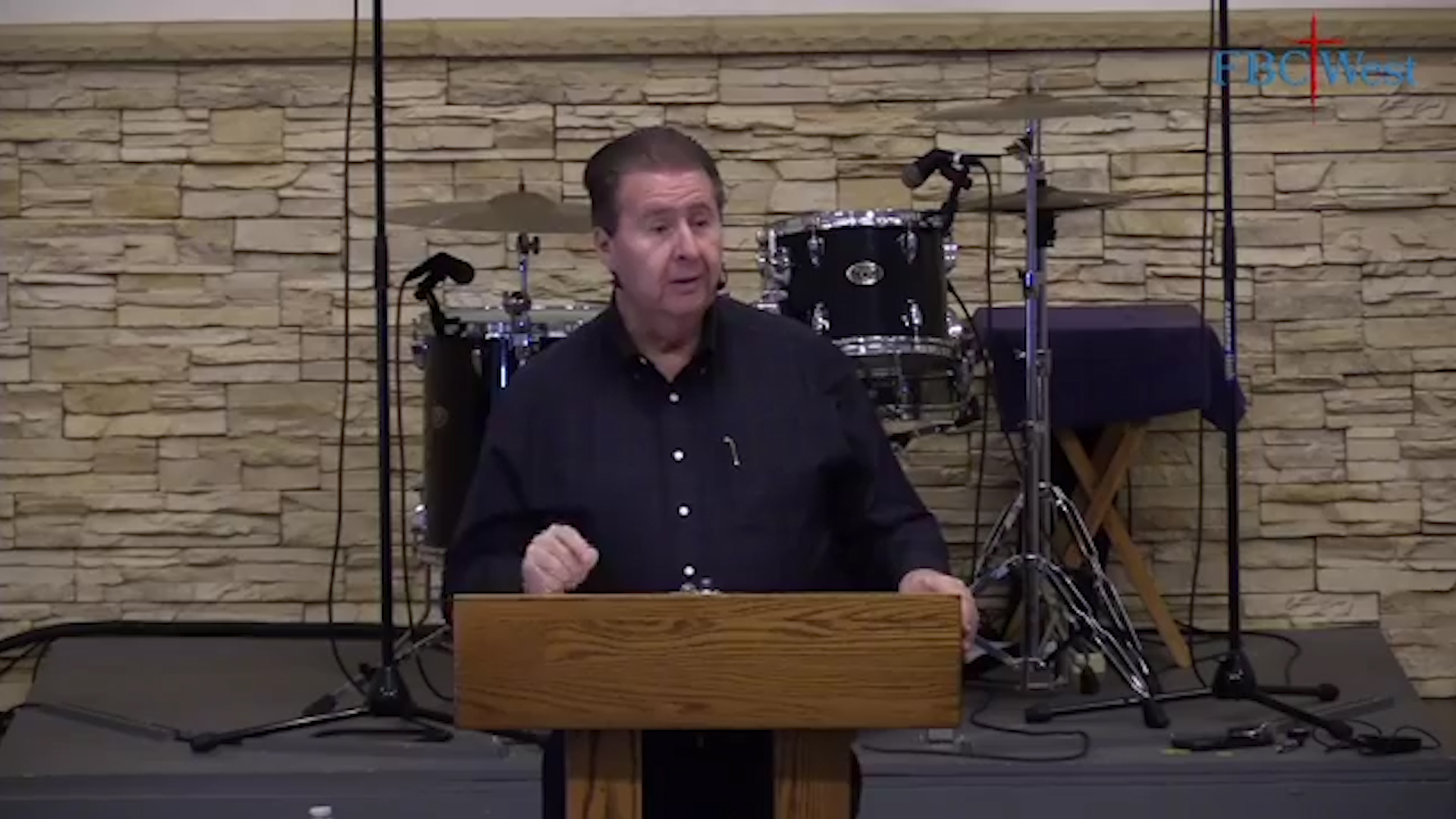 Recorded On: 02/24/2019
---
Bulletin
FBCWest
February 24, 2019

"God is Spirit, and those who worship Him must worship Him in Spirit and truth."

"Majesty"
PRAISE AND WORSHIP
SCRIPTURE READING – Psalm 107:1 - 3
"How Awesome is the Lord Most High"
"My Lighthouse"
"I Could Sing of Your Love Forever"

GIVING OF SELVES AND OUR OFFERINGS
OFFERTORY PRAYER
SPECIAL MUSIC – By Pru Hungate

PROCLAMATION OF THE WORD
MESSAGE Pastor Joe
"THE LIFE AND MINISTRY OF JESUS THE MESSIAH"
"The Temptation of Jesus"

Time of Reflection
PRAYER TIME –

"He Knows"

Benediction "Only Jesus"

SERMON NOTES

Matthew 4:1 & 2 - Jesus fasts
Matthew 4:3 & 4 - Temptation – Appetite
Matthew 4:5 – 7 - Temptation – Testing God
Matthew 4:8 – 10 - The easy way
Matthew 4:11 - Minister
Luke 4:13 - Devil departs for an opportune time
1 Corinthians 10:13 - Temptation is common
1 Perter 5:6 – 10 - The devil
James 1:12 – 15 - The devil didn't make me do it
Hebrews 4:15 - Knows

---
Scritpures
Matthew 4:1 & 2 - Jesus fasts
Matthew 4:1 Then Jesus was led up by the Spirit into the wilderness to be tempted by the devil.
Matthew 4:2 And after He had fasted forty days and forty nights, He 1then became hungry.
Matthew 4:3 & 4 - Temptation – Appetite
Matthew 4:3 And the tempter came and said to Him, "If You are the Son of God, command that these stones become bread."
Matthew 4:4 But He answered and said, "It is written, `MAN SHALL NOT LIVE ON BREAD ALONE, BUT ON EVERY WORD THAT PROCEEDS OUT OF THE MOUTH OF GOD.'"
Matthew 4:5 – 7 - Temptation – Testing God
Matthew 4:5 Then the devil took Him into the holy city and had Him stand on the pinnacle of the temple,
Matthew 4:6 and said to Him, "If You are the Son of God, throw Yourself down; for it is written, `HE WILL COMMAND HIS ANGELS CONCERNING YOU'; and `ON their HANDS THEY WILL BEAR YOU UP, SO THAT YOU WILL NOT STRIKE YOUR FOOT AGAINST A STONE.'"
Matthew 4:7 Jesus said to him, "On the other hand, it is written, `YOU SHALL NOT PUT THE LORD YOUR GOD TO THE TEST.'"
Matthew 4:8 – 10 - The easy way
Matthew 4:8 Again, the devil took Him to a very high mountain and *showed Him all the kingdoms of the world and their glory;
Matthew 4:9 and he said to Him, "All these things I will give You, if You fall down and worship me."
Matthew 4:10 Then Jesus said to him, "Go, Satan! For it is written, `YOU SHALL WORSHIP THE LORD YOUR GOD, AND SERVE HIM ONLY.'"
Matthew 4:11 - Minister
Matthew 4:11 Then the devil left Him; and behold, angels came and began to minister to Him. Jesus Begins His Ministry
Luke 4:13 - Devil departs for an opportune time
Luke 4:13 When the devil had finished every temptation, he left Him until an opportune time. Jesus' Public Ministry
1 Corinthians 10:13 - Temptation is common
1 Corinthians 10:13 No temptation has overtaken you but such as is common to man; and God is faithful, who will not allow you to be tempted beyond what you are able, but with the temptation will provide the way of escape also, so that you will be able to endure it.
1 Perter 5:6 – 10 - The devil
1 Peter 5:6 Therefore humble yourselves under the mighty hand of God, that He may exalt you at the proper time,
1 Peter 5:7 casting all your anxiety on Him, because He cares for you.
1 Peter 5:8 Be of sober spirit, be on the alert. Your adversary, the devil, prowls around like a roaring lion, seeking someone to devour.
1 Peter 5:9 But resist him, firm in your faith, knowing that the same experiences of suffering are being accomplished by your brethren who are in the world.
1 Peter 5:10 After you have suffered for a little while, the God of all grace, who called you to His eternal glory in Christ, will Himself perfect, confirm, strengthen and establish you.
James 1:12 – 15 - The devil didn't make me do it
James 1:12 Blessed is a man who perseveres under trial; for once he has been approved, he will receive the crown of life which the Lord has promised to those who love Him.
James 1:13 Let no one say when he is tempted, "I am being tempted by God"; for God cannot be tempted by evil, and He Himself does not tempt anyone.
James 1:14 But each one is tempted when he is carried away and enticed by his own lust.
James 1:15 Then when lust has conceived, it gives birth to sin; and when sin is accomplished, it brings forth death.
Hebrews 4:15 - Knows
Hebrews 4:15 For we do not have a high priest who cannot sympathize with our weaknesses, but One who has been tempted in all things as we are, yet without sin.
---
Transcript of Service