View Past Services
FBCWest 311 | Daniel Seeks God Through Prayer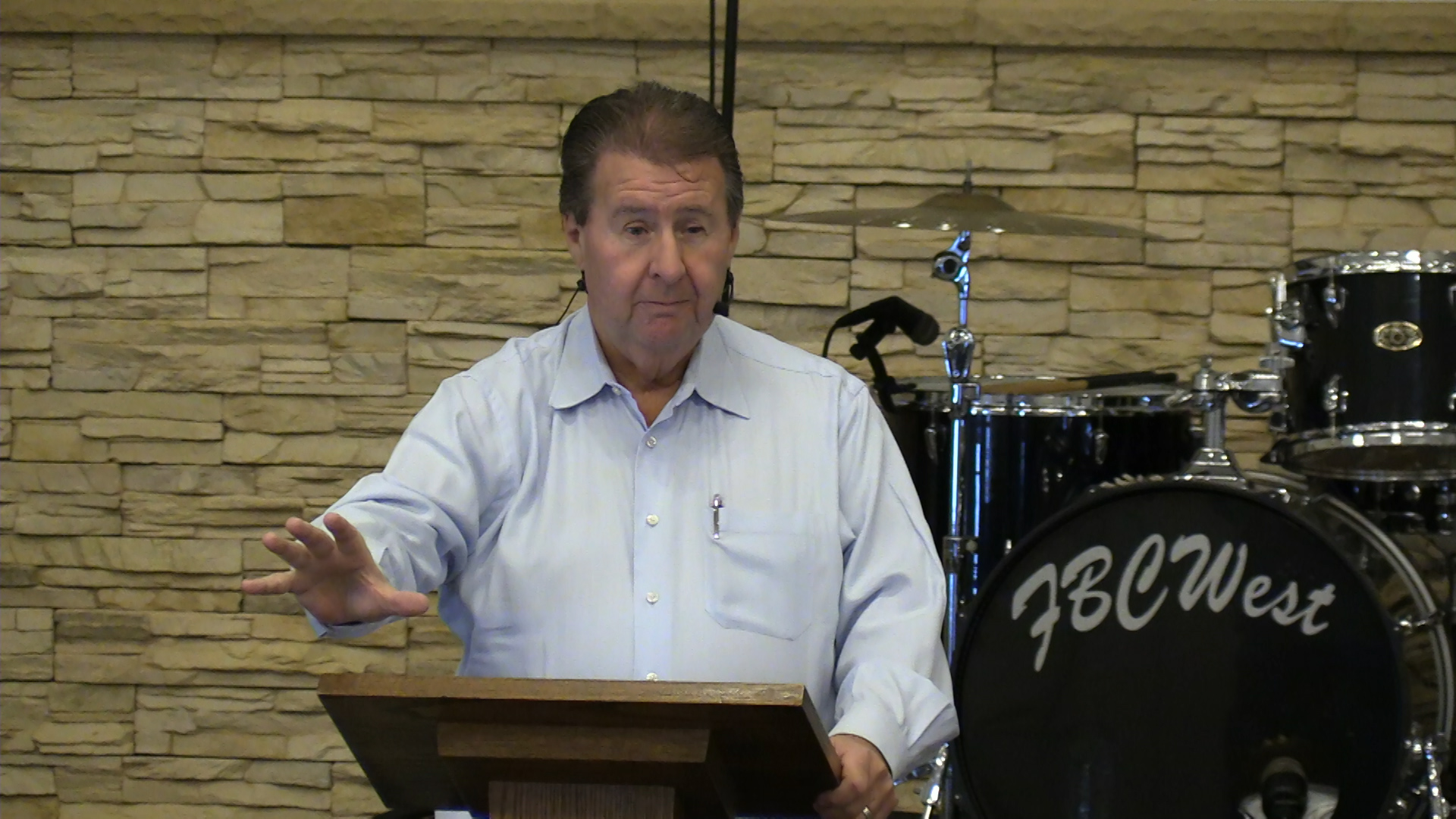 Recorded On: 10/28/2018
---
Bulletin
FBCWest
October 28, 2018

"God is Spirit, and those who worship Him must worship Him in Spirit and truth."

"Meet Us Here"

SCRIPTURE READING – Psalm 29:1 & 2
PROCLAMATION OF THE WORD

MESSAGE Pastor Joe
"DANIEL – Living as Strangers in a Foreign Land: God Is Still Sovereign"
"Daniel Seeks God Through Prayer"

Time of Reflection

"Even So Come"

GIVING OF SELVES AND OUR OFFERINGS
OFFERTORY PRAYER

SPECIAL MUSIC – Pru Hungate

PRAISE AND WORSHIP
"Your Love Awakens Me"
"Who You Say I Am"
"Oh My Soul"


ACKNOWLEDGEMENTS AND ANNOUNCEMENTS
Benediction "I Surrender My Life"

SERMON NOTES
Daniel 9:1 & 2 Daniel reads Jeremiah
Jeremiah 25:11 & 12
Daniel 9:3 Daniel seeks God by prayer
Daniel 9:4 – 19 Daniel's prayer a contrast between God and His people
Revelation 19:11 - 16

---
Scritpures
Daniel 9:1 & 2 Daniel reads Jeremiah
Daniel 9:1 In the first year of Darius the son of Ahasuerus, of Median descent, who was made king over the kingdom of the Chaldeans--
Daniel 9:2 in the first year of his reign, I, Daniel, observed in the books the number of the years which was revealed as the word of the LORD to Jeremiah the prophet for the completion of the desolations of Jerusalem, namely, seventy years.
Jeremiah 25:11 & 12
Jeremiah 25:11 `This whole land will be a desolation and a horror, and these nations will serve the king of Babylon seventy years. Babylon Will Be Judged
Jeremiah 25:12 `Then it will be when seventy years are completed I will punish the king of Babylon and that nation,' declares the LORD, `for their iniquity, and the land of the Chaldeans; and I will make it an everlasting desolation.
Daniel 9:3 Daniel seeks God by prayer
Daniel 9:3 So I gave my attention to the Lord God to seek Him by prayer and supplications, with fasting, sackcloth and ashes.
Daniel 9:4 – 19 Daniel's prayer a contrast between God and His people
Daniel 9:4 I prayed to the LORD my God and confessed and said, "Alas, O Lord, the great and awesome God, who keeps His covenant and lovingkindness for those who love Him and keep His commandments,
Daniel 9:5 we have sinned, committed iniquity, acted wickedly and rebelled, even turning aside from Your commandments and ordinances.
Daniel 9:6 "Moreover, we have not listened to Your servants the prophets, who spoke in Your name to our kings, our princes, our fathers and all the people of the land.
Daniel 9:7 "Righteousness belongs to You, O Lord, but to us open shame, as it is this day--to the men of Judah, the inhabitants of Jerusalem and all Israel, those who are nearby and those who are far away in all the countries to which You have driven them, because of their unfaithful deeds which they have committed against You.
Daniel 9:8 "Open shame belongs to us, O Lord, to our kings, our princes and our fathers, because we have sinned against You.
Daniel 9:9 "To the Lord our God belong compassion and forgiveness, for we have rebelled against Him;
Daniel 9:10 nor have we obeyed the voice of the LORD our God, to walk in His teachings which He set before us through His servants the prophets.
Daniel 9:11 "Indeed all Israel has transgressed Your law and turned aside, not obeying Your voice; so the curse has been poured out on us, along with the oath which is written in the law of Moses the servant of God, for we have sinned against Him.
Daniel 9:12 "Thus He has confirmed His words which He had spoken against us and against our rulers who ruled us, to bring on us great calamity; for under the whole heaven there has not been done anything like what was done to Jerusalem.
Daniel 9:13 "As it is written in the law of Moses, all this calamity has come on us; yet we have not sought the favor of the LORD our God by turning from our iniquity and giving attention to Your truth.
Daniel 9:14 "Therefore the LORD has kept the calamity in store and brought it on us; for the LORD our God is righteous with respect to all His deeds which He has done, but we have not obeyed His voice.
Daniel 9:15 "And now, O Lord our God, who have brought Your people out of the land of Egypt with a mighty hand and have made a name for Yourself, as it is this day--we have sinned, we have been wicked.
Daniel 9:16 "O Lord, in accordance with all Your righteous acts, let now Your anger and Your wrath turn away from Your city Jerusalem, Your holy mountain; for because of our sins and the iniquities of our fathers, Jerusalem and Your people have become a reproach to all those around us.
Daniel 9:17 "So now, our God, listen to the prayer of Your servant and to his supplications, and for Your sake, O Lord, let Your face shine on Your desolate sanctuary.
Daniel 9:18 "O my God, incline Your ear and hear! Open Your eyes and see our desolations and the city which is called by Your name; for we are not presenting our supplications before You on account of any merits of our own, but on account of Your great compassion.
Daniel 9:19 "O Lord, hear! O Lord, forgive! O Lord, listen and take action! For Your own sake, O my God, do not delay, because Your city and Your people are called by Your name." Gabriel Brings an Answer
Revelation 19:11 - 16
Revelation 19:11 And I saw heaven opened, and behold, a white horse, and He who sat on it is called Faithful and True, and in righteousness He judges and wages war.
Revelation 19:12 His eyes are a flame of fire, and on His head are many diadems; and He has a name written on Him which no one knows except Himself.
Revelation 19:13 He is clothed with a robe dipped in blood, and His name is called The Word of God.
Revelation 19:14 And the armies which are in heaven, clothed in fine linen, white and clean, were following Him on white horses.
Revelation 19:15 From His mouth comes a sharp sword, so that with it He may strike down the nations, and He will rule them with a rod of iron; and He treads the wine press of the fierce wrath of God, the Almighty.
Revelation 19:16 And on His robe and on His thigh He has a name written, "KING OF KINGS, AND LORD OF LORDS."
---
Transcript of Service
But prayer is an interesting thing. Everybody does it. At one point in another there's always the joke that says that that you will never band fully prayer from school as long as schools give tests because students will always pray we find ourselves. Even people who claim not to know God will seek him in prayer. When there is a felt need and it is interesting what we do about prayer.

Because what we tend to do is we all feel that we don't pray well enough and so we when we hear somebody else. Praying we think, OK well. They sound really good. God must be impressed with them. So we incorporate some of what they do, and say thinking what they do, and say in Press. God so therefore. I'll use it to impress card and you can see that often times as I tell people all times you can tell Aidan. Or, a background religiously of certain people by how they pray they'll use certain words are certain words in certain orders and go OK. That person's charismatic because they've adopted that style of prayer, and.

And again, they think that while the pastor of that church praise that way. Obviously he's a man of God. Therefore, God must be impressed so I'll pray his way, and use his words.And don't feel bad if that's how you feel because even the disciples felt that way. What did they say they want to Jesus said Lord teach us? How to pray? Now I'm pretty sure that they weren't necessarily impressed with the technique of Jesus but I'm sure that they were impressed with the fact that he was a man of prayer, and then he was defective man of prayer. And instead of giving a long dissertation. He did say OK, you've asked we're going to set up a 3 week special course on how to pray.

He doesn't do that, he says OK pray this way, and he gives a very short concise prayer and he's taught is not the number of words. You use and he's somewhat surprising because basically what it does it says starts out by saying God is our father. You know there's a familial relationship with him that he is so holy that even his name is holy and then he goes off, and does something that most of us never think about may your will be. As it is in heaven.

Immediately, if we've got as far as praising God our next thing on our list is. Santa Claus God. I want this, I want that whatever and I'll sit on your knee. If that's what's required but here's my list of gifts that I want? And then we say, Well that somewhere, said something about being grateful so we say thank you for giving it to us and then we go Oh Yeah, I heard nothing about in Jesus name. Coz I've heard other people say that and so maybe God's gotta.

Address it and answer it if I say in Jesus name Amen and you go great prayer. Again prayer is something we all do. Prayer is something I think we all want to be more effective at. And if something to the Bible says that we are to pray without ceasing. That weird to make our requests known to God so we're not only.I felt need of thing I need to pray, but we're also commanded to pray. So rather than having a long series on how to pray and quite frankly if you use my prayer life as your example. You'll probably fall as short as you do if you follow bunch of other peoples example of prayer. But one of the things before we talk about prayer is the sense of felt need. There is a sense that we pray more earnestly. When there is a crisis or we have something that we feel so for instance. If someone were to say if your doctor was you come in and say, Well, you know.

It's possible you have a certain disease. So we're going to run a bunch of test to see if you have that disease or not. I'm pretty I'm sure. The 99.999 percent of you will start seeking God's face really quick and will be start really praying with enthusiasm God. I don't want that disease. Don't give me that disease, even if I have that disease. Lord take it from me. Now he'll me so that when the test come back, I'll be healed. Everything would be wonderful. And we pray up until the doctor gives us the results and if the doctor says.

You don't have that terrible disease. Sometimes will say thank you God. That are thank you to God is not nearly as long as our whole. Please God, don't let this happen to me. Or well, I guess I didn't need to pray 'cause they don't have it anyway. And you've robbed your opportunity, but the next step. I want to do is a lot of times. Somebody will come to you and say, I may have this terrible disease in our common responses will pray for you. And usually we do that because we're Christians and that's kind of the correct answer to do and part of it is because we don't know what else to say.
So our responses are pray for you. And if that person who has that disease or potential diseases. Lucky you'll remember to pray for them and sometimes when you're well aware that you have a really bad memories. Let me pray for you now that away you got it off the list. But I want you to think just a moment the difference between when you were told you might have this disease versus how you prayed for the person who's told they might have that disease.

The closer you are to that person, the more likely. You are to pray fervently if that's your spouse or sibling or mother, or father of a sudden there's that sense of I need to pray because I love this person. All of us in this room. Our brothers and sisters. We're not related genetically per se, but related by the blood, were all told, that were brothers and sisters in the Lord that we're all children of the King so if you would pray in earnest for that loved one who is family related then you ought to be as.
Intense about our prayers for the one who is not related genetically but related by the blood. So I'm saying all this to say that when we look at Daniel's prayer. It is something that should be more than just oh that's a neat doctor know that's a neat Bible study. It is something that auto influence our future lives and the reason why I like to emphasize. Daniel other than the word here in this part of Daniel is Daniel was a prayer.

He prayed it was his habit to pray 3 times a day so much so that he was set up. Because everyone knew he prayed 3 times a day and so not only did he pray it was his habit Daniel was willing to pray when it would cost him? Everything his life. There was no guarantee that guy was going to spare him from the Lions den?
He just prayed anyway because having that relationship and communing with God, was important to him more important than his life. So when somebody's like that, then when he when we have his recorded prayer. I'm going to take notice. And so in Daniel.

Chapter 9 verse one into it says this in the first year of Darius, the son of Astharoshe. A median descent who was made King of the Kingdom of the Chaldeans in the first year of his reign. I Daniel observed in the books. The number of years, which was revealed as the word of the Lord to Jeremiah. The prophet for the completion of Desolation of Jerusalem, namely 70 years first thing we should notice.Daniel read the scriptures now at this particular time. There wasn't a collection of books that we now call the Old Testament and Jeremiah was in it. Jeremiah was just simply a prophet, who wrote the word of God preach the word of God. Daniel had a copy any new based on Jeremiah's ministry and his writing that he was a prophet of God, so that it was profitable for him to study the word of God and when he did, he notice something?
He notice that there was a time table. Did God told Jeremiah that I am going to cause Jerusalem to fall and that you're going to be in exile and you're gonna be in Excel as Daniel reads 70 years. So I want us to take a look at 2 passages in Jeremiah. That talks about that. The first we find in Jeremiah Chapter 25. Versus 11 and 12.

This whole land will be a desolation in a horror and these nations will serve the King of Babylon 70 years. Then it will be when 70 years are completed. I will punish the King of the Babylon's and that nation declares the Lord for their iniquity and the land of the Chaldeans and I will make it an Everlasting Desolation. So here's a clue. It talks about 70 years, but but Jeremiah is going to go on further and say this. And it's interesting that you've probably heard this passage, but you've probably never heard it in context. You've probably heard in-n-out and I'll tell you where it begins, he says this. Verse 10. For the says the Lord when 70 years have been completed for Babylon. I will visit you and fulfill my good word to you to bring you back to this place. Most of you haven't read that part. Daniel is going to perk up ago. Here's a second clue.

We're going to be here in captivity for 70 years. Daniels, a man somewhere between 80 and 85 at this point, he knows he's been there. Awhile, the question is? When do the 70 years. Start does it start? When he first became an exile does it when the drew some totally falls. He's not quite sure, but he knows that the word of God that God is about to rescue his people now here's the rest where you've probably heard it.
For I know the plans that I have for you declares the Lord plans for welfare and not for calamity to give you a future and a hope then you will call upon me and come and pray to me and I will listen you will seek me and find me and when you search for me. With all your heart, I will be found by you declares the Lord and I will restore your fortunes and will gather it from all the nations in from all the places where I've driven you declares the Lord and I will bring you back to the. Into into exile.

Daniel reasons is OK, there 7 years, but God is not just said, OK, with 70 years where they god's got a plan for us or future for us and he's going to restore us. We just need to seek him. Now the other 2. Chapter in Isaiah that I'm not going to go there, I'll just tell you quickly. If Daniel would have read Isaiah and he may have. We just this is what caused him to perk up. It talks about how God before.
The Medo Persian Empire ever comes into existence. He talks about a King named Cyrus and how Cyrus is going to be his Shepherd and how is Cyrus is going to fulfill is his commands and how Cyrus is going to do certain things to have the people restored so there are 2 places in the scripture that give comfort to those in exile that the time period.

Is just 70 years and as we just read in Daniel? That when Darius in his first year that's when he notice this great prophecy. So you want to be an effective prayer. Read the word of God.
Because that's going to tell you what the will of God is and you notice. In what we call the Lords prayer. It does say may your will be done on Earth. As it is in heaven well. If you haven't read his word. You may not know what his will is. So when you read his word to go. Haha there's his work. There's his will. So I'm going to pray that his will be done here on Earth as it is in heaven.The problem with that is there certain things that tells us that says will one of those for instance, it's his will our sanctification are holding this, but we all like to run amok.

We all like to do things that we want to do. But God says no. No, you're supposed to be satisfied his holy but that's no fun. So we kind of don't want to do that, then talks about the his will is for us to pray for our leaders, Yeah, but our leaders are jerks.
It's OK because we're still supposed to pray for them. That's God's will. There's several things that are told that it regards will and we go, but I don't like that one. I like the ones that says how wonderful I am. Maybe it's why we don't and so reading the word of God is one of the things that Daniel does that is the impetus for his prayer.

So so I gave my attention to the Lord to seek him by prayer and supplication, with fasting sackcloth and Ashes. Notice he didn't say and so I thought it said giving got a list of things that he ought to do the way I think he ought to do it, he goes, I sought the Lord in prayer. It wasn't I didn't see an answer from God in prayer. I thought God in prayer.Now this on a human level, let's look at.

There are times when our children or spouses. Whatever sometimes the only thing we think that they care about us is that we give him stuff. And so it's OK. It's almost Christmas going to be good to you and so whatever you're going to get all these gifts and then all of a sudden you don't care coz you got all the gifts. That's not a relationship. That's a ATM transaction.
Daniel doesn't seek God for the ATM. He seeks God for God. So he in prayer is not to take out your list first. Is to seek God? So I gave my attention to the Lord to seek him by prayer and he does it by supplication with fasting sackcloth and Ashes? Which means he's wearing cycle it's like wearing a gunny sack?
Those are irritating they're not nice. They start Lennon's thoughts that is not still. It's scratchy. He's going. I'm not going to be comfortable. I'm going to seek him by fasting which means I'm going to be hungry. I'm going to have a headache. It's not going to be fun. But it's so important to me to seek God that I'm willing to undergo and forgo. Creature comforts. Because it's in that important.

And then now he says, I pray to the Lord. My God, and confess and said Alas Oh, Lord, the great an awesome God, who keeps his covenant and loving kindness for those who love him and keeps this commandment, so he starts off and says, I know who you are God. You're awesome, you're kind of sounds like the Lords Prayer? How would be your name, he starts off by. Confessing and professing that God is awesome, and that he keeps his covenants, and he is loving kindness. And then he goes we?Interesting word we everything we've read up to Daniel uphill to town and I'll give you a clue even at the end of Daniel and even throughout the whole scriptures has never won negative thing to say about Daniel.

Now I'm not saying Daniel was in perfect coz he probably was it, but is probably awesome man of God. And the things that he's going to confess is probably not part of his problem. But he understands it's part of his peoples problem and guess what? He is we and so when your family's messing up you can see well. That's just my family, you're in your family. We have sinned. Daniel makes it personal it's not AI'm. I'm I'm not just praying as an intercessor. I'm praying because I had the problem. Just as much as everybody else. We have sinned committed iniquity acted wickedly and rebelled even turning aside from your commandments and ordinances. He puts up with you told us to do something. God we didn't do it not only that we didn't do it, we did it in rebellion.

Now, as a dad I can tell you. When my kids were growing up and even my grandchildren. Especially my grandkids they they can mess up a lot more than my kids could 'cause I guess I'm not responsible for them. And I also understand that my grandchildren and I have a common enemy. It's called their parents and so anyway, I have a lot of I have a lot of empathy and sympathy for my grandchildren.

And more so for my kids, you know, I gave my kids more leniency than you know, I use the example. When you go to a restaurant in your kid is crying. You just kinda feel bad you're trying to get him. But when somebody else's kids crying you. Why don't you shut that Brad up your kids never the brat that kid always is so?

In the in the sense that. We are sinners but we also understand who we are. Moreover, we have not listened to your servants, the prophets who spoke in your name to our Kings are Prince is our fathers and all the people of land, he acknowledges that the rebellion and sin Randy but that's the other thing on when God talks about rebellion as a father. I was much more forgiving about everything else but rebellion. His people rebelled against God, their father, but Daniel is fair understands that the sin.
Is ramping it goes from the Kings to the princis to the leaders to the fathers to him? It's not just a scent of the leadership is not just the sin of the people it was complete. And when God sent his profits to warn the people that they're off track. None of that. They're not listen to them, they kill them.The only time they ever made a big deal about the profits were out there, they were dead. Then this is how wonderful they were.

For 7 righteousness belongs to you. Oh, Lord, but who was shame as it is this to this day to the men of Judah. The inhabitants of Jerusalem and all Israel. Those are nearby. And those who are far away in the countries to which you have striven them because of their unfaithful deeds, which they have committed against you open shame belong Salassa Lord to our Kings are Prince is our fathers because we have sinned against you. To the Lord Our God belongs compassion, forgiveness for we have rebelled against him, nor have. We obeyed the voice of the Lord. Our God to walk in his teachings, which he said before us through his servants, the prophets. Indeed, all Israel has transgressed your law and turned side, not obeying your voice so the curse has been poured out on us. Along with the oath, which is written in the law of Moses, the servant of God for we have Him. Daniel continues understanding and making a comparison God is Righteous. God is Justin what he is done, he told us in advance what the consequences for were if we didn't obey it were in rebellion. He warned us through the profits. And yet we again. We is not them. It's we did not listen. So Daniel is saying God. You are in comparison, you are holy you are righteous everything that you say, and have done has been just and right?

On contrast, we have rebelled it's our shame. It's our sin it's us.Thus verse 12 he has confirmed his word, which he had spoken against us and against our rulers who ruled us to bring us ring on us. Great calamity for under the whole heaven. There is not been done anything like? What was done to Jerusalem as it is written in the law of Moses. All this calamity has come in come on us. Yet we have not sought the favor of the Lord. Our God by turning from our Nick Witty and giving attention.Truth.

Again, Daniel goes, it's a problem that has been throughout all of Israel and it's gone even to this day to the people who have been in Diese Bora throughout the Earth. We have not paid attention. We have not sought you.And it was written ahead of time. Therefore, the Lord is kept the calamity in store in broadest brought it upon us, the Lord. Our God is righteous with respect to all those each which he has done but we have not obeyed his voice. He continues on God is just God did these things and it's not unfair. It's just we deserve it again. He's not often times as well. God you didn't have to act this harshly. No, you've done exam.

It is if you are truthful that you're going to do exactly what you say your going to do its our problem.
Verse 15 and now Lord Our God, who have brought your people out of the land of Egypt, with the mighty hand and have made a name for yourself, as it is this day. We have seen. We have been wicked. Oh, Lord accordance with all your righteous acts that now your anger and your rats turn away from your city Jerusalem your holy mountain for because of our sin and iniquity's of our fathers drew some in your people have become a reproach to all around us. So now Daniel is getting to the point where he's going now would make a transition. Your people have not been a perfect people.

Even when you brought us out of Egypt. You done it with righteous acts in with power and you can do it again and reminding ourselves of what God has done in the past can increase our strength and our faith to know that God can do something in the future. And so Daniel saying, you did, this, but we also understand we're not a perfect people because even while we were coming out of Egypt. We were griping and complaining and getting other gods and worshiping them. But you have been righteous. We saying but now Jerusalem is reproach.And now Daniel is going to talk to God in a way, which I think is an effective prayer and I hate to use the word technique because Daniel is doing this from his soul. He's not doing this well if I say these words that will impress God.

So now our God listen to the prayer of your servant into his application and for your sake. Oh, Lord, let your face shine on your desolate sanctuary. Daniel's Prayer isn't God. I just confess but I'm a pretty good guy, and I'm your servant and I'm pouring out my heart. Now God because of who I am you need to set drew some back to the way it was. Sour Daniel does he goes. Jerusalem is your city and as long as it's in Desolation. Your name is the one that's affected so God restored. Rosenshein your face on Jerusalem, so that people will say that's the city of God.


That your place and when your place shines people shine to you. But when you're in Desolation. Everyone say well. Maybe the God of the Jews isn't that powerful so his technique and again. I hate to use the word to say God I'm praying for this not for me, but for you. It's for you, that I want this to happen. Oh my God Incline your ear in here. Open your eyes and see our desolation at city, which is called by your name for we are not presenting our supplication. Before, you on account of any merit of our own. But on account of your great Compassion Bingo. It's not because we are worthy that God answers. I have this friend. Who? It was a great prayer warrior for Libby while in the hospital. Even now in Dollywood, he pray. He would get others to pray and there was a group of men of about 40 that I've spoken to before and he got them to pray and whatever and I had thanked him. For praying and doing that and for his Ministry of not only prayer, but seeking others to pray. His response was little bit surprising to me his response was well. The reason I got other people to pray is because. I'm not that worthy in maybe guy won't hear me, but he'll other here luthers. And my response to him was. In the book of James, it says. That the prayers of a righteous man of Availeth accomplishes much and that. Elije, it was a man with a nature just like ours, he was Followable. He had his good days. He had his bad days, his good days were really, really good his bad days were really, really bad. He had a nature like ours. And yet, he prayed, but he prayed the will of God in those things happening. And I told him because of Jesus. We are righteous in his response to me was OK pastor. When we think God auto listen because of our merit. You don't understand.

Daniel if anybody could both say I'm a pretty good guy, I risk my life for you. I was wanting to pray and I on that Righteous Daniel doesn't make that plea, he goes is not for our merit. But account of your great compassion. God be merciful because you are merciful not because I deserve it. I'm not asking for you to be fair. God I'm asking for it even to be unfair. I want you to give me grace unmerited favor. Oh, Lord here, Oh Lord Forgive Lord Listen and take action. God I want you to hear me. But hearing is nice. But your people are suffering so I want you to take action. For your sake my God, do not delay again. It isn't I'm really uncomfortable here. I really don't like it here. It's no no God is your sake that I'm praying for this because quite frankly Daniel is about 8085 years old. Even if they get to go out tomorrow is probably not going to make it. He's not praying that he might go back, he's praying that God's name might be restored. Do not delay because your city and your people are called by your name. We call ourselves Christians. Christians being little Christ, which is kind of a lousy description of who we are as we really ain't. That's why I like the term disciple better.

For those of you who have been in the martial arts, there white balance and orange belts and green belts and black belts and stripe bells and black bells. There's different levels of being a disciple of that. Techniques so if you are in judo, you have those kind of bells of your karate. Those kind of belts, but nobody says oh because you're a white belt, you're not involved in karate. Your disciple. You're not a Karate I. You're not a Jew delight. He just have a certain belt. Now the problem is if we're all truthful. We all just have rookie belts. Whatever the whatever the first thing to get you on the mat that's where we are. Because it's not about our merit, it's about him. So God I'm asking you to do these things for you. So, in your prayer life. I'm not saying that you shouldn't say God I could really use this. I want you to heal me or heal. My friend or my spouse or my loved one whatever not saying Don't have those prayers. But if that's all your prayer life is. You're missing out. And if that's all your prayer life is you're not going to see a lot of what God's doing happening because you're not going to be aware of it. Daniel was aware of what God was going to do could you imagine if he never read? Jeremiah then all of a sudden these things aren't happening. Go for a coincidence, no God said. For years and years and decades before it ever happened. This is what's going to happen. He knows what's going to happen. He knows what the will of God is 'cause, you've read it before it happened. It wasn't a coincidence is it always been the will of God.

So. I'm going to give you one more scripture, which is not in Daniel. To give us an opportunity. To pray God's will. And I'm not going to use the let's be sanctified or let's pray for our leaders or those type things going to give one. That's kind of like Daniels, reading of Jeremiah. And is found in the book of Revelation. Chapter 19. Now I would encourage you to read the entire book and I understand that you're not going to understand most of it is even the people who claim that they understand it probably don't. But there are some bits and pieces that we can get. This is one of the bits and pieces. I think we can get this in Chapter 19, starting with verse. 11.

And I saw Heaven opened and behold, the white horse and he was sat on it is called faithful and true and in righteousness. He judge in wages war his eyes are a flame of fire and on his head are many diadems and he has a name written on him, which no one knows except himself, his clothes with the robe dipped in blood and his name is called the word of God and the armies, which are in heaven clothes and fine linen. We're following him on white horses from his mouth comes a sharp sword, so that with it. He may strike down the nations and he will rule them with an iron rod and he will tread the wine presses of the fierce wrath of God. The almighty and on his robe and on his thigh. He has a name written King of Kings and Lord of Lords. We can debate when this is going to happen, it may happen tomorrow. Open today, it may happen 70 years from now, it may not happen for another thousand years. But we know this is what's going to happen. So guess what? We should be praying God May. The Lord of Lords and King of Kings arrive may you rule. This earth because we've done a lousy job with it. Come. Even so, come.

Because I know that this is your word. This is your promise that you have told us your son is coming to rule and reign so even so, Lord come quickly. So. If you don't know what to pray for. You're not having a test tomorrow. No one told you that you might have a terrible disease or a friend or loved one does and you just are having AI don't know what to do day. Pray the will of God. And thereby. Do what Jesus taught. May your will be done on Earth as it is in heaven. Hopefully Daniel's prayer can be an outlying to say that we pray with passion and conviction that we pray not seeking a list of what God might do to benefit me, but we might seek him in prayer that the formal thing that we do in prayer is not to get stuff, but the commune and be with God. And then to see not necessarily what he might do in our lives, but what he might be doing in this world. And to know with conviction because his word has said it just as Daniel which I want. Tobacco little bit some might say Well, it's the World God. So why pray because we were told to by our Lord. So that's good enough if you're if you say he's my boss and he says do this. You might say well. I don't quite get it because you're going to do it anyway. So why should I pray. Well, if you read Jeremiah, he talked about his the people heart coming back to him. Daniels praying that their hearts might come back to him, he's praying God's will understanding.

That, he needs to see God. So even if it's the will of God and God's will will be done. We have been told to pray his will. And when we pray his will. And it happens. I suggest almost. Guarantee. When you pray his will and it happens, your faith is made stronger. So pray. Even so, Lord. I don't understand all of Revelation. But I get this portion. For God do it. In all guys people said.